/ Worldindia.com Why Netsol
Why Domain Name through Network Solutions Inc ?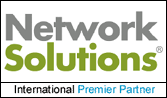 ---
Look before you leap
Registering a domain is your first step to secure your Web identity, and while doing so one must be aware of some common pitfalls and avoid them
Cheap domain registrations may not be as cheap as they seem
It is a advisable to ensure the credibility and track record of the organization through which your register your domain name. Nowadays, news-paper advertisements and mass media offer a plethora of domain name offerings at rock-bottom prices or even free! Be a wise consumer and think beyond these attractive gimmicks. For a number of these companies, domain name registration is not even their core business. Some of them don't have a website and are in this for a quick buck. Since a domain name represents your web identity, you must be careful and register with a reliable domain name registrar. A cheap domain name now may mean savings today but should an unreliable company cause interruption to your website, what you saved today will cost you much more tomorrow. Your website will be a key customer interface and represent your company image. if the domain name maintenance is poor and causes your website to cease operation for several days, you loss grows
Earliest pioneer and most experienced registrar
In Jan 1992, after a competitive-bid process, the U.S. National Science Foundation (NSF) tapped NSI through a Cooperative Agreement to take on the risks and responsibilities of building and maintaining a domain registration process for the .com, .net and .of top-level domains. NSI also took on responsibility for the Internet Registry, the master file of domain name registrations in these top-level domains as well as the Internet Root Zone, the Internet's database of the 250 top-level domain name locations. At that time there was a rudimentary system of only 7,000 domain names in existence. NSI launched its registration services in 1993 with an employee base of 10 people. Today, NSI is the world's leading Registrar with over 12 million net registrations as of June 2000.
Unparalleled Customer Support
NSI has registered more .com addresses than anyone else. With more than seven years of experience gleaned in serving the every-growing Internet, NSI knows the challenge and importance of first-rate customer service. It has 300 customer service representatives speaking 15 languages, from Korean to Russian to French, handling half a million phone calls and 10 million emails on a quarterly basis.
A Solid Company
In 1999, NSI has been named as NASDAQ's 100 hi-tech stock index. Among those 100 hi-tech public companies, NSO is an exceptional Internet company that has consistently demonstrated steady growth and remarkable profits. In Q1 2000, NSI recorded US$15 million in net profit, As a VeriSign company after the merger in June 2000, NSI is part of the world's largest provider of Internet Trust Services of businesses.
An array of Value-Added Services to support customers along web lifecycle
Registering a domain name is only the first step to the Internet. NSI helps companies and individuals establish their unique Internet identities to communicate and conduct business online. along the way to building a unique Web identity, NSI has lined up appropriate value-added products. For instance, meet the needs of corporations worldwide, NSI provides ideNames services -- domain name registration services in 243 country-code Top-Level Domains (ccTLDS). For more information, please visit www.idnames.com. NSI also helps small - and medium - sizes businesses to build professionally designed websites by offering them templates through ImageCafe. For more information, please visit www.imagecafe.com
Strong global and local partnership networks
Network Solutions registers the majority of Web addresses worldwide through various channels including more than 240 companies worldwide in its Premier Partner program. To server the expanding Asia Pacific market, NSI established its regional headquarters in Hong Kong in June 1999. NSI adds value to its Premier Partners by offering in-language support 24 x 7 so these same ISPs and Web hosting companies. K.S.A, worldindia.com was the first International Premier Partner in 1998 proving comprehensive offerings to local users.
NSI works closely with all the major global companies and worldindia.com is one of them.